How well does an Instagram promotion perform?
What's the point of promoting on Instagram, anyway? I wanted to know more about it and so I just tried it out last week. Of course, I promoted my current game Little Astronaut, for which a new update was recently released. Naturally, I don't want to withhold the results of my analysis from you.
As a post, I used the announcement for the Now It's Personal update. I didn't change anything else on it and just wanted to see what Instagram could bring me in terms of additional audience. In principle, you can promote any Instagram post. For this, you choose an audience, a budget and a duration.
Audience & Budget wants to be well considered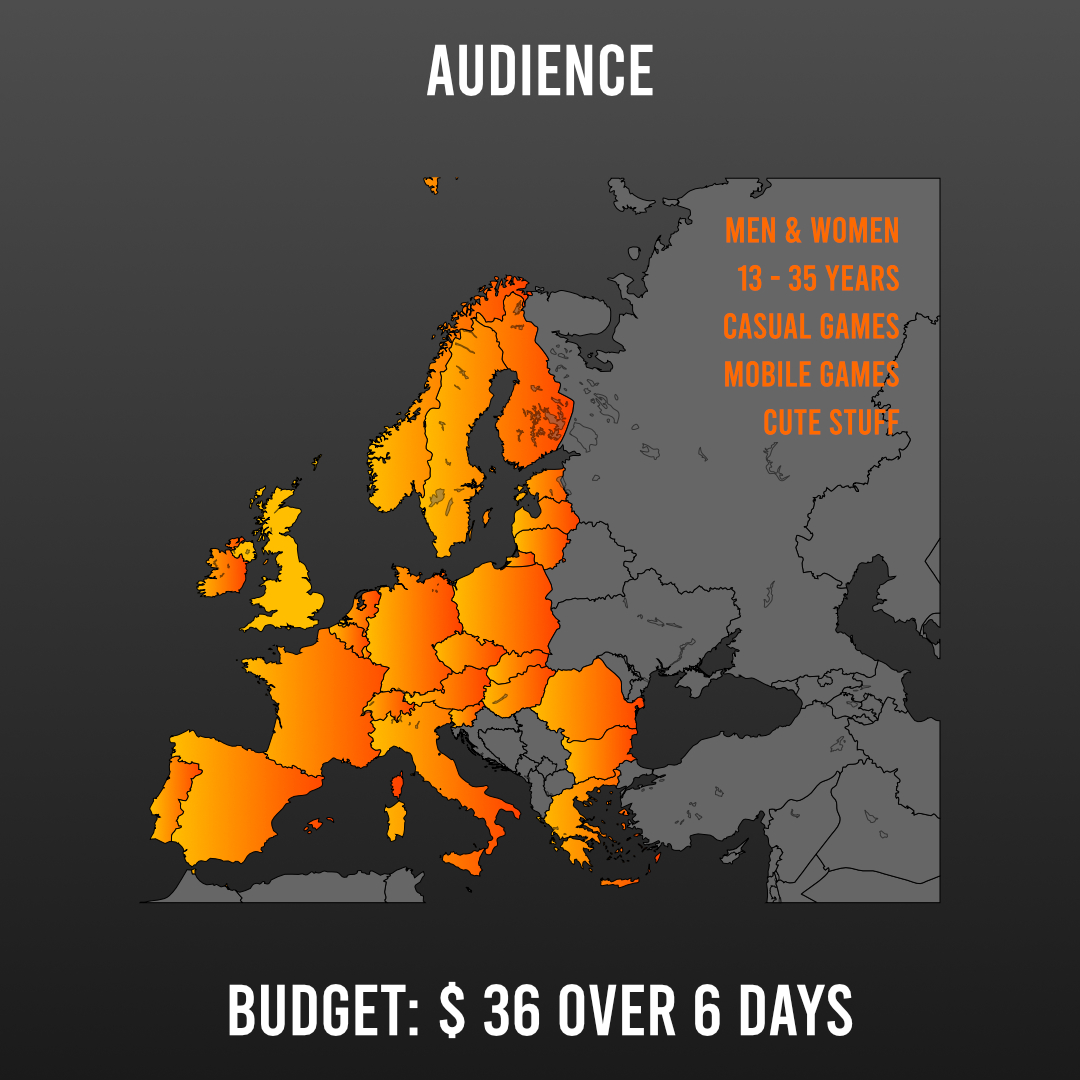 If you don't want to select your own audience, you can also let Instagram generate one based on your followers. Since my followers are mostly other indie developers, that was out of the question for me, of course. Instead, I selected a suitable audience myself. Here you can first specify age & gender, but also which countries or even specific cities you want to target. Additionally, you enter a few terms to further narrow down the audience.
I decided to target a somewhat broader Europe, focusing there on men and women aged 13 - 35. 13 years is the minimum age on Instagram and also for most games, if you don't want to get into hot water with data protection. I chose Europe because the ranking server is currently located in Germany and I have not yet tested latencies in distant countries.
As a topic, I decided for users who prefer casual and mobile games, but are also into cute characters. There is certainly some fine tuning that can be done here, but that was enough for me here for testing purposes for the beginning.
As a budget, I decided on $36 spread over 6 days. In doing so, I made sure to include the weekend in any case, where I hoped for more activity.
In addition, you still have to decide what the promotion should be aimed at. I wanted to acquire more players, so I redirected all clicks to the Little Astronaut project page.
How well did it perform?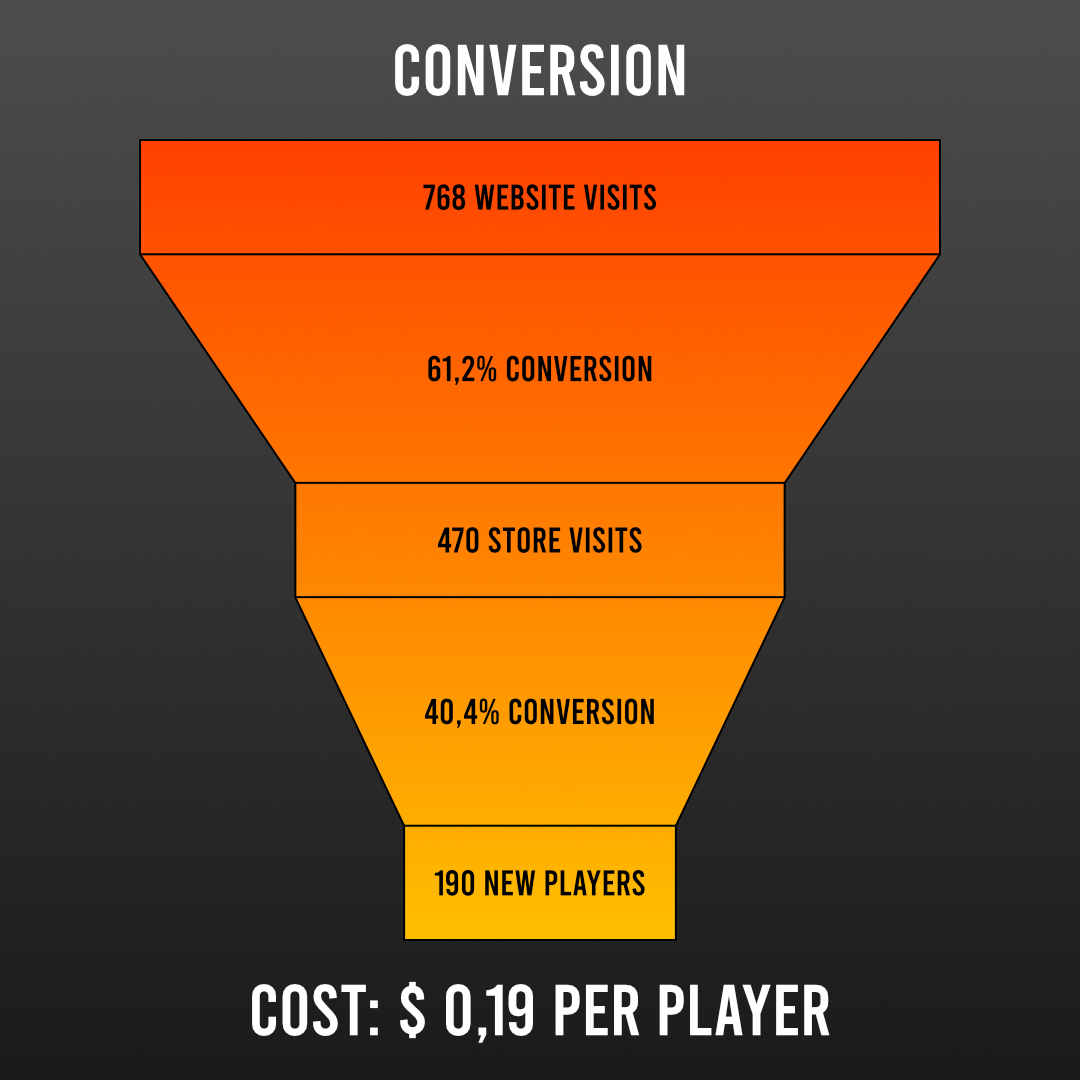 First of all, here are the bare results: Over the course of 6 days with a budget of $36 768 people clicked on the link to the website. In addition, I got 135 likes, 60 saves and 198 profile visits. From the 768 website visitors, 470 people (data from Matomo) clicked on one of the two download links. Eventually and finally, this turned into 261 new players (data from ranking server). That would be a conversion rate of 33.98% and a cost of $0.14 per player.
However, these figures must be taken with a grain of salt. First of all, you can't say exactly how many likes you would have gotten anyway. And also, you have to take into account how many players you normally gain per day. For me, that would currently be about 11.83 players. So over the course of 6 days about 71 players. Thus one should calculate these out of the result. So there are only 190 players left which corresponds to a total conversion rate of 24.74% and a cost of $0.19 per player. The graph above shows the conversion rates between each of the intermediate steps.
What else happened
I had a couple of nasty comments in between. At first I actually tried to communicate with these people until I realized they were just trolls. That's why the comments were eventually deleted by me. One even tried to promote his own business through my promotion. That was low even by Instagram standards.
Conclusion
The promotion actually didn't have too high a conversion rate. About a quarter of the visitors installed the game at all. How many will delete it later is not yet set up. This is fine for testing purposes and can be fine if you earn enough from the game. I have drawn some conclusions from this.
The game should be better presented. What is it all about? How does the gameplay look like? Who is it made for?

Videos are probably better than simple pictures. Especially for a game, you'd rather see it in action.

The landing pages and the store entry should encourage potential players to download the game and, if necessary, also provide further information.

Always keep an eye on the promotion. Troll comments or users who try to use your reach, should be deleted quickly.
I hope I could help you with this. In any case, it has provided me with valuable information and the next promotion is sure to come.
There are no comments yet.